Instagram Password Hack - InstaRipper
InstaRipper is a powerful hacking application built to crack login password of desirable Instagram account. It's made for PC and mobile phones.
Primarily its main purpose why it got created is to find user passwords which they had lost, forgot, or their accounts got hacked and used by someone else. But it seemed that users abused this software and decided to use it in totally opposite way - to hack other people' accounts. This made Instaripper looking more like a "evil" tool then what its main goal was planning to be.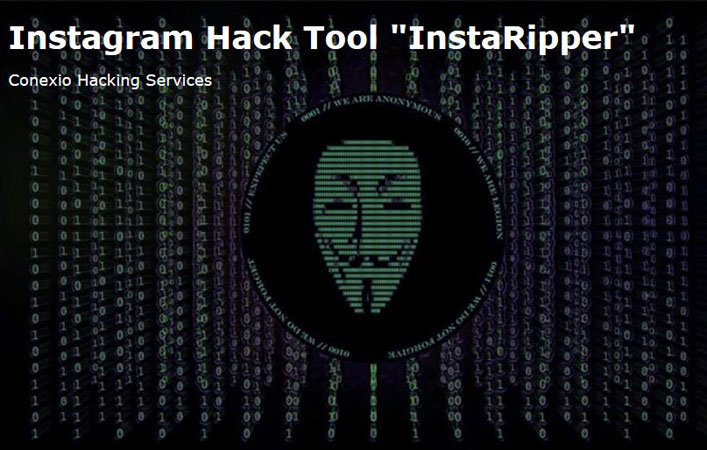 User Manual
App is portable, which means installation is not required. Program files does not get copied to C:/Program Files directories. Instead, just put all downloaded content inside a same folder and run the executable InstaRipper file. Everything should work file this way.
Once the app is running, you can notice field to enter an Instagram username. Just enter exact username of someones account you'd like to get password and press the button. Everything is so simple!
Optional - It's also possible to hide your online identity completely by disabling cookies and covering your real IP address with a pre-built proxy from the InstaRipper's server. For this you have to enable two checkboxes options which you can see inside its interface. Just check them with your mouse left click or tap with a finger if you're using InstaRipper on your smartphone.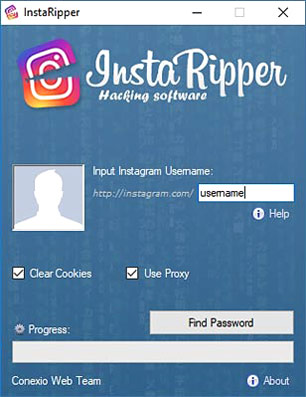 App is available to download from its official website.
- Download InstaRipper App
Works on next devices with these operating systems:
- Desktop PC (Windows or Mac X OS)
- Smartphones (Android (.apk) , iOS)
Developers are currently working to make it work on Linux OS too. We'll post notification here once they make it possible.
Please understand that we are not authors of this Instagram hack tool. InstaRipper is an application made by our associates in programming world, Conexio Team. And this page is dedicated to promote their work.